---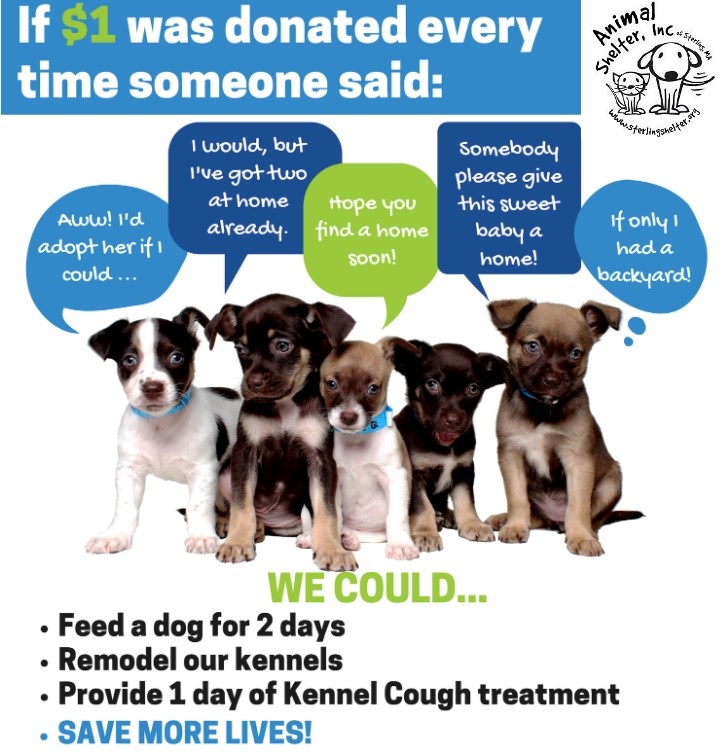 We could NEVER do ALL WE DO here at the shelter without the amazing support of our shelters supporters, donors, adopters and friends.
Below is a list of many ways you can help OUR SHELTER –  many are FREE!
NEW WAYS TO HELP OUR SHELTER for 2020

Our amazing adopters and supporters support our shelter in many different ways.
Some write checks. Others use credits cards. But did you know that you could just give us your unwanted car, or truck, or motorcycle?
By donating an unwanted vehicle to our organization – We are listed as THE STERLING ANIMAL SHELTER, you can support everything you enjoy about our shelter/clinic, while taking care of some unfinished business.
Or call 866-628-2277
---

---
CHECK OUT OUR NEW AMAZON WISHLIST – it's donating made easy! Our list of supplies is inexpensive and short, but an easy way for you to help US keep our furry friends happy during their stay with us Looking to donate items to help us keep our shelter and pets clean and happy. Starting Spring 2017 – Our shelter has added MULTIPLE groups of great shelters/rescues in the South – where they are completely overwhelmed with animals. We've been accepting (almost on a weekly basis) puppies/dogs – kittens and cats as space allows in our kennel. Sadly many of these shelters still euthanize due to space. With all these new groups we are working with we've completely depleted our stock of supplies that we use on a daily basis – all of which are inexpensive but important items to keep our furry friends healthy and clean. We've finally created our

AMAZON WISH LIST

– to make it really easy for donors and supporters to click on our WISH LIST LINK and see the items our shelter is in most need of. 

We don't care about the brands, sizes, cost of items or number of items donated

…. any items on the list are much appreciated – from the furry friends and the staff. We've even got a PRINTABLE DONATION WISH LIST – that you can easily print out and if your out and about and looking to donate items to help us keep our shelter and pets clean and happy!


---

Print our Sterling Shelter Poster (preferably with a color inkjet or laser printer) and post it on the bulletin board at work, at your local markets, the laundry mat, or any other place you think people will see it.


---

It's time for shopping to feel good again! You can turn every online purchase into a free donation for Animal Shelter Inc. just by using Giving Assistant.  Giving Assistant shoppers earn as much as $700 cash back per year, and they donate a percentage of those earnings to organizations they value. Now, every purchase can result in a donation. Start donating with Giving Assistant today, and unlock deals like Bed Bath & Beyond Coupons, as well as big savings at JC Penney, Kohls, and more. With 1800+ popular online retailers, your opportunities to save and give are endless. Click on this link and start shopping today – a win/win for YOU and our furry friends!

---
Consider our shelter and your pet/s in your

Estate Planning. Will your animals be cared for in the event you can no longer do so? You can actually set up a specific estate plan for you animals to ensure that our shelter will care for them until a suitable home can be found!

Click here to learn more

.


---

Shop Online at Amazon

? Support Our Shelter with the Amazon Smile Program!

Click here to learn how easy it is to shop AND raise $ for our programs.




---

Go to WoofTrax.com,

Download the FREE App

and Support US Every Time You Walk (with or without Your Dog/s) – This is a GREAT FREE WAY to raise $ for our shelter just for WALKING (YOUR DOG).

What is it? Walk for a Dog is a Smart Phone application (app) that promotes healthy pets and healthy humans while raising money to support local animal shelters.
How does it work? After you download the app onto your phone, take the phone with you when you walk your dog(s). Simply press the start button and the app will keep track of all your walks. For every mile you walk, a donation is made to the animal shelter of your choice. We are listed as STERLING ANIMAL SHELTER

Android: Install App
iPhone: Install App

---

---

VOLUNTEER APPLICATION for ANIMAL SHELTER INC OF STERLING MA

– You don't have to open your wallet. Just your heart. Volunteering is a great way to improve the lives of our shelter pets, and we offer many ways for you to spend time with our animals. Quality time with shelter animals has a positive and long-lasting effect on their well-being. Show your compassion. Volunteer today! Our shelter always needs volunteers and here are just a few of the benefits of volunteering: You'll join a network of hundreds of people working to make the world safe and more humane for all animals. You'll make the jobs of everyone working for shelter animals a little easier by lending a hand and spreading the message of responsible pet ownership.  You will never find a more grateful and accepting comrade than an animal you have comforted. Make lots of new friends and not just the four legged kind. Volunteer Application Then email, fax or mail to us. Contact staff@sterlingshelter.org for details. *** Please note – due to insurance/liability volunteers wishing to volunteer IN the shelter must be 17+ years. For younger volunteers wishing to help our shelter/pets/programs please email staff@sterlingshelter.org – we DO have volunteer opportunities outside of the shelter.


---

FOR KIDS UNDER 17 years of age – we have some fun ways YOU can still help the shelter! Check out the ideas below – lots of fun ideas for kids and adults too!

FOSTER FAMILY APPLICATION

our shelter is always in need of foster families to provide TLC, help with socializing animals that may be shy or need some basic training and manners or nurse a pet/s back to health so they can be adopted. Our foster program saves hundreds of lives each year. Interested in fostering? Click here to email us or Print out the FOSTER FAMILY APPLICATION – Return it to the shelter via mail OR fax to 978-422-8574 or email to staff@sterlingshelter.org


---

Ever wanna' know what your Mixed Breed is Mixed with? find out in less than 3 weeks! BUY ONE today for only $80 we can also have it mailed to you (add $10 for s/h) if you can't pick one up at the shelter just email staff@sterlingshelter.org and make arrangements for payment and mailing info!
Important Message from our Director:  I'm going to apologize in advance for the bluntness of this message, but it's time to get down to some cold hard numbers.  Not enough people are donating to local organizations.  We know Covid 19 has hurt everyone, but WE need YOU (OUR supporters/adopters/clinic clients) now more than ever – as do all the other small non-profit organizations so we truly hope in the spirit of the Holidays and Good Will to ALL you will consider donating to YOUR favorite local non-profit.
The fees that we charge, help cover expenses and not much else.  We know that may be hard to believe, but considering that it costs $150 or more PER PET to transport to our location, the amount of medical care we provide for these animals before we adopt them out, it is not long before expenses go well above our adoption fees.
We have helped save thousands of animals over the past 25 years.
We have a hundred or so faithful and committed supporters, that contribute to our organization regularly, and while we are so thankful for their support,  it's not enough to keep our shelters doors open and the lights on. WE need YOUR HELP – please consider becoming a recurring donor… for as little as $10 a MONTH… you can help US save thousands of lives!
Our goal now is to get 1,000 monthly recurring giving donors at $23.81 a month (the average cost to feed a shelter animal for one month).  If you currently donate to a national animal organization, consider that some of the directors at these organization are making over $700,000 per year.  That's not a typo.  Then they offer some of what's left as grants for thousands of other shelters to apply for.  Which, you guessed it, are small, and extremely competitive.  Check out Humane Watch.  It's time for everyone to step up and contribute, if you don't, then who will??? CharityWatch Downgrades Humane Society of the U.S. to "D" Rating
---