PLEASE NOTE: We can only help with transport rescues in our region, which is Central Massachusetts.
Adopting Koi
Please note – There are costs associated with adoptions. View a sample of our Fish Adoption Contract and recommended adoption costs. Our adoption season is May through October, we typically don't do any rescues or adoptions of Koi and Goldfish during the winter as they go into a mild sense of hibernation and moving them could cause injury. We devote a LOT of time, effort and energy caring for these beautiful koi fish that came to us in search of a better life. We feed them the best food and healthiest snacks. We accept these fish for FREE and often have our volunteers drive upwards of an hour each way to rescue them. So yes, there are a lot of costs associated with the fish we care for. For more information on anything fish related please contact us – we'll get your email to the appropriate Fish Wranglers and Rescuers!
Koi Fish Rescue & Adoption Services – Established May 2019 – With the completion of our BEAUTIFUL NEW pond we are now offering a new rescue and adoption program and this one ISN'T for the furry family members! This program is for our finned friends "Koi Rescue & Adoption Services". We understand that there are many reasons someone might not be able to care for their Koi fish. As with many animals we rescue and adopt out, there comes a time when the most humane thing to do is let them find a better home, a home that can better care for them, and a place of safety and health. Your finned friends will enjoy time in our 80×50 foot pond. Over 65,000 gallons with multiple hiding areas, different depths, various water features with lights, fountains and bubblers.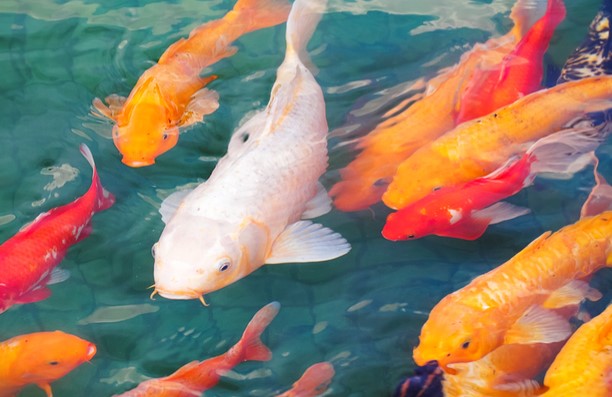 MOST IMPORTANT – Please DO NOT let your Koi fish die and above all do not turn them loose in the wild – they will NOT survive. If you can no longer take care of your pond, are moving, or just over-stocked contact us to rescue them by filling out our Koi Fish Rescue Form.
Before you call us to help your Koi
Do not under any circumstances take the fish out of the pond, and store in tubs or small containers then call us. Each rescue needs to be properly planned to keep them healthy.
If the pump has stopped working ..run the hose to give them fresh water.
Do not throw loads of food into an unfiltered pond.
Do not turn of pumps and filters (if they are working)
Please understand, we are very busy and sometimes booked weeks in advance please don't wait until the last day/s to contact us.
If you have Koi fish that are in need of a new home please contact us with the following information and with as much lead time as possible and we'll do our best to help you make arrangements to re-home your Koi fish.

When you contact us we'll need to know
Approx number & size of koi
If the fish appear to be healthy
If you know their specific breed/s – age and if they are male or female

How to best contact you

– provide cell/home/email contact info
Include where your pond is located including major cross streets near your location
Any other relevant info that may be important
Koi are very social and each have their own unique personality, traits, and appearance, so the more information we have the better chance we have to re-home them).
Though our shelter accepts Koi free of charge donations are always welcomed and much appreciated (our shelter runs 100% on surrender and adoption fees and we are NOT funded by the city/state/government).
We DO Ask You Bring

:
Fish Food
Treatments and/or supplements
Any Pond equipment you might have such as: Nets, Pumps, Filters, U.V lights.
Large Tubs 50 gallon/s or larger
Anything really pond related or that could be utilized for a pond.
In SOME situations and depending on WHERE your pond is located, our volunteers MAY be able to come to your pond with necessary equipment to safely catch and transport your fish – so you don?t have to go swimming after them. The fish are then taken to one of our quarantine tanks to be fed and cared for until they can be released into our large pond and can be found a good home.
IF our volunteers were to come to your pond, in order to help US catch your fish we require that:
you drain your pond to 6 inches of water

just before we arrive

, this will allow us to better reach the fish.
advise us of the size of your pond, including length, width and depth.
the number and approximate size of your fish (which will help us know what equipment to bring).
Please understand – Our volunteers work, have obligations and families, so please allow us PLENTY of time, if possible, to schedule rescue of your beautiful fish.
For the Koi rescue/adoption information please submit our Koi and Goldfish Rescue / Adoption Form. Any other pet related questions please contact the shelter directly at 978-422-8585 or staff@sterlingshelter.org
Warranty of Koi Health
When a person "adopts" any koi, they assume all responsibility for the koi as it goes into their possession. These fish are ALL rescued so we often have LITTLE information on the age, breed, health or temperament. If a koi dies on the way home, or if it carries a disease or parasite, well, sadly that's the way it goes and we recommend you figure out what went wrong so you can prevent that in the future. From our knowledge and experience rescuing koi, the only un-fixable trouble is when the koi is first rescued from a severe stressed environment where they were already on death's door (such as a golf course pond that was being drained and the fish were in respiratory distress when picked up.)
Quarantine of Adopted Koi
Everyone who has a koi pond should have a quarantine system (spare tank, filter etc) and anyone receiving koi is expected to quarantine the koi they receive from anyone else.
Netting Koi – Backyard Ponds
Easiest method is to drain the pond so only a few inches of water left. If you drain the pond, you can use just about any tight mesh net. You don't really want to use landing nets that you get at the sporting goods store. That type of net has about an inch grid, and the fins & scales of the koi will get caught in the net, tearing them off. You really want to get a net that has a much smaller mesh, like 1/4″ holes.
Catching koi fish and gold fish in a fully filled pond is a lot trickier than it looks on youtube videos. After years of practice, I finally learned how to do it and can select one koi or goldfish out of a full pond pretty easily. But to do this, you really need to have a proper koi pond net. They are large in diameter but very shallow in depth. Many people use 24″ diameter nets, but personally I use a 42″ net. The bigger the net, the easier it is to catch the koi, especially the bigger ones.
And besides, a large bowl net is really useful to every koi owner, so if you need to select out one of your koi to see if it needs medical treatment, or for when you are picking out the koi you are going to take to a show. A word about koi shows — I know some people around koi shows get super serious, but most shows allow amateurs and showing koi is really fun, even if you don't win anything. You get to be around other koi enthusiasts and have a fun time, and see a lot of really pretty koi.
Koi CPR
If your koi starts floating on it's side, and stops moving it's gills (or if jumps out and you found it on the ground), you can revive them. Gently move them back and forth in the water to get the water flowing over their gills, and hold them in a water current. If you have a small pump available, then hold their mouth near it to get the water flowing over their gills. I have a small 66 gph pump that I use in their mouth, and have successfully revived fish that appeared dead. Seems to take 30 to 90 minutes to revive a koi.
Disclaimer
Everyone involved agrees to do their best to be polite and act in a professional manner, but sometimes accidents happen, ponds are slippery and messy. By using this website or any information obtained from this website, all parties involved agree to hold harmless any other people / parties involved and any of our shelters staff/volunteers, harmless of liability or damage while we are performing a rescue or being involved in any related activities. All parties involved assume their own risk.
If you are interested in buying Koi Fish and Supplies on line check out Next Day Koi.