"Shelter animals aren't broken. They've simply experienced more than other pets. If they were human, we would call them wise. They would be the ones with tales to tell and stories to write….animals dealt a bad hand, but who responded with courage. Don't pity a shelter animal…..ADOPT ONE. And be proud to have their greatness by your side". Anonymous (…and wise)
Debunking Myths About Homeless Animals
The greatest thing about adoption is that you save a life. For every animal adopted from a shelter a space opens up that will welcome another great dog or cat and save its life. In addition, besides the obvious advantage of saving a life you also get a great chance to find a companion who is ?perfect? for you. You will get a chance to speak with experienced adoption counselors who know the animals they are placing, work with them daily and will be able to recommend the best pet for your particular situation. Our shelter also has an enormous variety of animals, purebreds, mixed breeds, all ages and personalities. This will allow you to have the most options when adopting your new lifelong friend. Most animals in a shelter have already received some kind of training, and so there will be a shorter adjustment period when you bring in a shelter pet.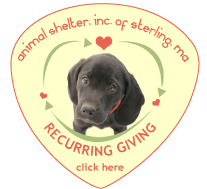 Are dogs and cats in shelters healthy and well adjusted?
Our shelter makes every effort to screen animals for serious health and behavior problems. Even with the best-behaved animal, however, you should expect to go through a period of adjustment as your pet becomes used to a new home, family, and routine. No animal, no matter where it comes from, is problem free or comes with a health and behavior guarantee, but if you're prepared to provide your new family member with some time, training, and patience, your reward will be a loving companion.
Do shelters really have purebred animals for adoption?
It is estimated that about 25% of the animals in shelters nationwide are purebred. If you are interested in a specific breed, call us to see if we have something that might be of interest to you or if your serious about adopting a certain breed check with the local breed rescue group. There is a breed rescue group for EVERY BREED out there, sometimes more than one. For a list of New England breed rescues groups click here Keep your options open, come visit our pets! Let the pet pick you?
Aren't all shelter animals just "secondhand" pets?
Many shelter animals are puppies and kittens that will be starting their lives as companions. Older dogs and cats have had previous owners. You may have to re-educate these animals to some degree. On the other hand, they may have already been exposed to house-breaking and obedience training. Remember, too, that companion animals are remarkably adaptable and have a boundless capacity for love. Just because they lived with someone else first, doesn't mean they wouldn't make a wonderful companion for you!
Is it difficult to adopt from a shelter?
Every shelter has its own policies for approving adoptions. The best adoption programs are designed to ensure that each animal is placed with a responsible person, one prepared to make a lifelong commitment, and to avoid the kinds of problems that may have caused the animal to be brought to the shelter. An important part of the process is to match the life-style and needs of the adopter with the individual dog or cat. If the screening process occasionally seems overly strict, try to remember that the shelter's first priority is to protect the animal's best interests.
Are there requirements following the adoptions of dogs or cats?
Most shelters require adopted animals to be spayed or neutered (though all OUR pets are spayed/neutered PRIOR to adoption), either before they leave the shelter or within a specified period of time afterward. Following your pet's adoption, you will be responsible for providing regular veterinary care and for ensuring that your dog or cat is properly licensed. Having a companion animal brings rewards–and responsibilities. Be sure your dog or cat always wears a collar with an identification tag. Provide nutritious food and fresh water for your pet. Make time for exercise, training, and play. Finally, enjoy your new life with your new best friend.